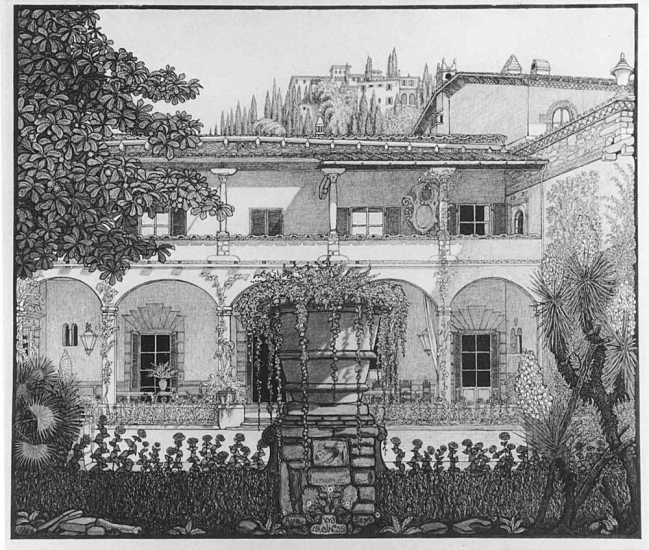 Italian Period (1921-1950)
In the winter of 1920, Nieuwenkamp left for Italy. He spent his first winter in Sicily in 1920/1921 and then settled in Rome with his wife and their two youngest daughters where he first started painting. In his studio in the Via del Tritone 102 he painted no less than 27 paintings and in 1926 he settled in the villa Riposo dei Vescovi in Fiesole near Florence where his offspring still live today.
Important commissions
Due to the warm and mild climate Nieuwenkamp slowly recovered and in Rome he began working on major art commissions. The Colonial Institute in Amsterdam had asked him to create a number of designs for the new building's friezes and the Trade Association of Amsterdam (HVA) wanted his paintings to be part of the furnishing of their new headquarters on the Nieuwezijds Voorburgwal. His paintings depicted people from the company working in the plantations in the East Indies. He was also commissioned to decorate the new HVA offices in Surabaya and Medan with sculptural reliefs and stained-glass windows.
NB: The meeting hall in Amsterdam, decorated by Nieuwenkamp, is still intact, but the HVA itself is long gone. The building now houses the Dutch SNS Bank and is not open to the public.
Taking up painting
During his Italian period Nieuwenkamp started painting. He thought a talent for drawing made a good basis for painting which explains why it took such a long time before he decided to take up oil painting. At first, he was disappointed by oil painting, but he simply had not realised that oil paintings can be endlessly modified. This was yet another of the drawbacks of his independent working method…
Moving to Fiesole, near Florence
Rome was too crowded for Nieuwenkamp's taste , so he went to look for a quieter home, and finally found one, in San Domenica di Fiesole near Florence where they settled, moving in 1926 into the Villa dei Vescovi Riposo, also called the Bishop's Resting place (in former days this beautiful villa was frequently used as a stopover for bishops on the road).
In order to buy the house, he had to raise money from everywhere: he sold his houses in Edam and auctioned many of his graphic works at the Mak auction house. Without his wife's wealth, he would never have been able to buy the villa.
Restoration of villa Riposo and the garden
In the early days, they spent time in the Villa Riposo carrying out major renovations and repairs as the villa was dilapidated and had been neglected. They also needed to restore its ten-acre garden, so trees were felled, new hedges planted and as many as 16 fountains were built and restored. Nieuwenkamp then built a pool at the back of the villa, adding a tennis court further down.
Visiting and journeys
Wednesday afternoon was reception time, when friends and acquaintances would join them for tea. Wijnand and Anna often strolled through the garden with their guests, and played tennis or swam. Guests frequently came to stay.
During the time that Nieuwenkamp lived in Italy, he still travelled quite frequently and went to the Netherlands every year.